Et. Tu? CNN Takes Aim At Hunter Biden, Airs Roger Waters Calling Joe 'War Criminal'
After doing everything in their power to help Joe Biden win the 2020 election – including the yellowest of journalism to downplay the
NY Post
's credible report on Hunter Biden's evidence-filled laptop –
CNN appears to have gone against their child-sniffing commander-in-chief
.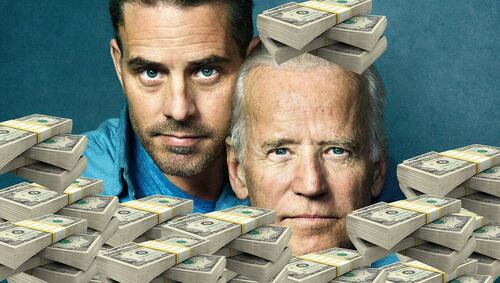 During a Sunday segment of CNN's "Reliable Sources," host Brian Stelter admitted that the Hunter Biden laptop story is not "just a right-wing media story," and that it could impact Joe Biden's chances for reelection in 2024.
"What about his son?" asked Stelter. "What about Hunter? Hunter under federal investigation, charges can be coming at any time, this is not just a right-wing media story. This is a real problem for the Bidens." 
Brian Stelter changes his tune about Hunter Biden:

"This is not just a right-wing media story, this is a real problem" pic.twitter.com/F42M7dSVd2

— End Wokeness (@EndWokeness) August 7, 2022
Breaking down Stelter's epic flip-flop is Fox News contributor Joe Concha:
Meanwhile, CNN also aired an interview in which Pink Floyd's Roger Waters calls Biden a "war criminal" who's "fueling the fire" of Russia's war with Ukraine.
He then questioned why the US does not "encourage" Ukraine's President Volodymyr Zeleksny "to negotiate, obviating the need for this horrific, horrendous war that's killing we don't know how many Russians."
When CNN's Michael Smerconish pushed back, saying the 78-year-old rocker had "got it reversed" by "blaming the party that got invaded," Waters replied: "Well, any war, when did it start?"
"You could say it started in 2008 – this war is basically about the action and reaction of NATO pushing right up to the Russian border, which they promised they wouldn't do when [former Soviet leader Mikhail] Gorbachev negotiated the withdrawal of the USSR from the whole of Eastern Europe," he said.
Watch:
Wow pic.twitter.com/V0BA177INb

— Jack Posobiec 🇺🇸 (@JackPosobiec) August 7, 2022
More via the NY Post: 
Waters shared a similar alternative view when Smerconish suggested China was "busy encircling Taiwan" with ongoing military drills in response to House Speaker Nancy Pelosi's visit to the self-governed island.
"They're not encircling Taiwan – Taiwan is part of China!" Waters said emphatically.
"And that's been absolutely accepted by the whole of the international community since 1948 – and if you don't know that, you're not reading enough. Go and read about it!"
Waters went on to further back Beijing, saying, "The Chinese didn't invade Iraq and kill a million people in 2003. In fact … who have the Chinese invaded and murdered, slaughtered?"
When Smerconish said "their own," the rocker snapped, "Bollocks. That's absolute bollocks. Complete nonsense — you should go away and read!"
Waters' "This is Not a Drill" tour — which stops at Long Island's UBS Arena this weekend and Madison Square Garden at the end of this month — also touches on the murder of George Floyd, abortion and gun control.

Tyler Durden
Mon, 08/08/2022 – 13:30
Go to Source
Author: Tyler Durden