Facebook Slides After Miss On Top And Bottom Line, Atrocious Guidance Amid "Weak Ad Demand"
Another day, another catastrophic report by Facebook, which is still called Meta for some bizarre reason at least until it changes its name back to normal again, which one quarter after imploding after catastrophic Q1 earnings has doubled down with an even uglier set of earnings after the close which not only missed on the top and bottom line but also guided far below consensus expectations.
Here is a detailed look at what the company reported:
EPS $2.46, missing estimate $2.54
Revenue $28.82 billion, missing the estimate $28.93 billion and down from Q2 2021.

Advertising rev. $28.15 billion, missing estimate $28.53 billion
Family of Apps revenue $28.37 billion, missing estimate $28.45 billion
Reality Labs revenue $452 million, in line estimate $451.4 million
Other revenue $218 million, beating estimate $203.4 million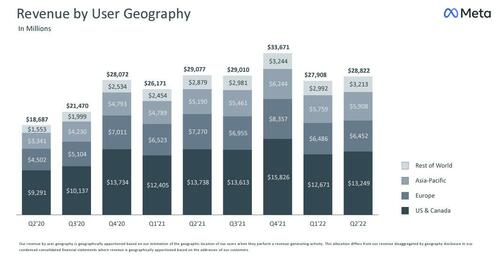 What is notable here is that this was the first quarter ever that Metabook had a Y/Y revenue decline: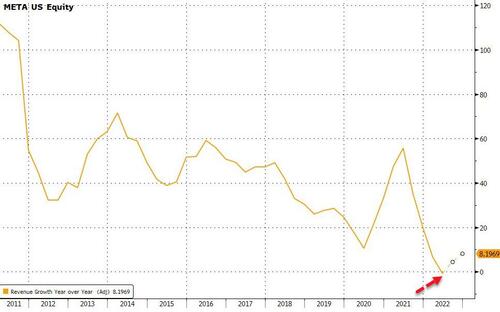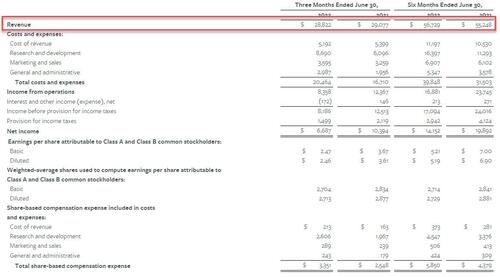 Going down the list:
Facebook daily active users 1.97 billion, beating estimate 1.95 billion, but
Facebook monthly active users 2.93 billion, missing estimate 2.95 billion
And while US DAUs rose, European users declined for a second consecutive quarter which the company will probably blame on banning Russia.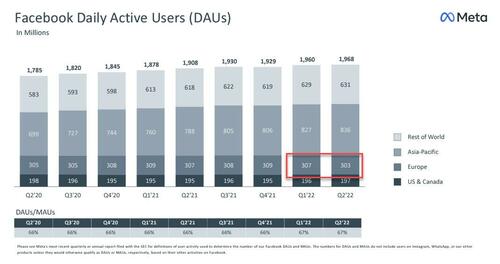 The rest of the results were mixed at best:
Ad impressions +15%, beat of the estimate +9.58%, but
Avg. Price Per Ad -14%, badly missing the estimate -9.66%
Family of Apps operating income $11.16 billion
Reality Labs operating loss $2.81 billion
Average Family service users per day 2.88 billion, estimate 2.91 billion
Average Family service users per month 3.65 billion, estimate 3.63 billion
Operating margin 29%, beating estimate 28.7%
Of the above, the ad price decline of -14% was the big shocker and confirms once again that the US is currently in a recession which will only get worse.
But the real kicker was the company's guidance, which was especially horrific, as Facebook now expects only $26-28.5 billion in Q3 revenue, far below the consensus Wall Street estimate of $30.32BN, and which "reflects a continuation of the weak advertising demand environment we experienced throughout the second quarter, which we believe is being driven by broader macroeconomic uncertainty."
At the same time, it raised the lower end of its CapEx guidance. And with expense guidance easing lower by a few billion, it confirms that the company is set to fire a lot of people.
"We expect 2022 capital expenditures, including principal payments on finance leases, to be in the range of $30-34 billion, narrowed from our prior range of $29-34 billion."
"We expect third quarter 2022 total revenue to be in the range of $26-28.5 billion."
"We expect 2022 total expenses to be in the range of $85-88 billion, lowered from our prior outlook of $87-92 billion."+
Of note, Facebook reduced its "hiring and overall expense growth plans this year to account for the more challenging operating environment while continuing to direct resources toward our company priorities."
The company also made several management change announcements, including the transition of CFO Dave Wehner to a new role as chief strategy officer, with Susan Li taking over as CFO.:
CFO David Wehner Will Be First Chief Strategy Officer
VP of Finance Susan Li Will Serve as CFO
There has been a discussion over the past month or so about Meta's headcount (and headcounts across all of tech really), although the company actually added more than 5,700 new jobs last quarter (this number will drop sharply in Q3).
And while there were several other disclosures, the big issue – as in the case of Snapcat – was the guidance, although unlike Snap at least Meta kept its although it probably wishes it could also drop it. Elsewhere, while user growth was good, revenue was a small decline as monetization of ads was hit badly.
Commenting  on the results, Bloomberg wrote that Facebook is "really trying to play catch-up to TikTok. They are pivoting to TikTok style AI-based recommendations, and there's no guarantee they will be able to come up with a better AI given that TikTok has had such a head start."
Bottom line: the market initially clobbered the stock which plunged 6% after hours, although the euphoria after today's dovish FOMC presser was enough to help llift it back to almost unchanged, although this too appears to be a rally to be sold.
The company's Q2 presentation is below.
Tyler Durden
Wed, 07/27/2022 – 16:39
Go to Source
Author: Tyler Durden