CIA Director Gina Haspel Announces Resignation A Day Before Biden Enters Office
After a 36-year career in the CIA the Trump-appointed director of the agency, Gina Haspel, has
stepped down a day before Joe Biden's inauguration
.
She took up the top post in 2018, replacing Mike Pompeo who moved to Secretary of State, and was the first woman to ever be named director. Her retirement is being reported as "widely expected" given tensions within the administration down to the last minute.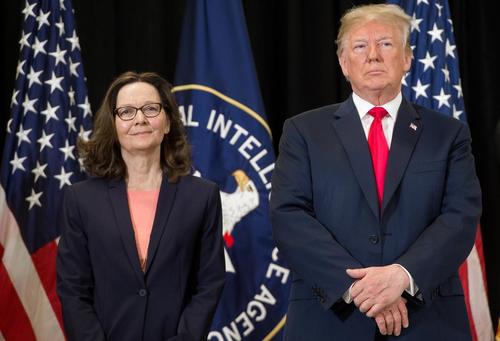 "It has been the greatest honor of my life to lead this remarkable organization," Haspel said in a message shared by the CIA on Twitter. There's long been speculation she would be fired amid an increasingly soured relationship with President Trump, however she's stayed largely in the background and has avoided publicly opposing or embarrassing the president.
According to Yahoo News, "Haspel also reportedly resisted Trump's last-minute attempts to install Kash Patel, a former aide to Republican Rep. Devin Nunes, a Trump ally, as CIA deputy director." It was believed this was a strategy to push her out.
Axios had recently detailed based on inside sources that Trump had "spent his last year in office ruminating over Haspel" and whether he should replace her based on perceived lack of loyalty.
Biden has previously announced plans to nominate career diplomat William Burns as his pick for CIA director.
Before becoming CIA director, Haspel ran a "black site" in Thailand where detainees were tortured. It's great that her incoming successor, Bill Burns, has never tortured anyone or defended torture. Now it's urgent to block torture apologist Avril Haines from confirmation as DNI. https://t.co/xuECfsWDaH

— Stephen Kinzer (@stephenkinzer) January 19, 2021
Most of Haspel's career was spent abroad as an operations officer in a covert capacity. Her rising to the director in 2018 was the first time much of the American public had ever heard of her.
She's come under wide scrutiny for running a "black site" in Thailand during the post-9/11 'war on terror' – where it's believed she oversaw torture of terror suspects. 
Tyler Durden
Tue, 01/19/2021 – 22:50
Go to Source
Author: Tyler Durden