OPEC Monthly Report Signals Demand Optimism, On Track To Drain Oil Inventories
OPEC, which earlier this month stunned markets with the unilateral Saudi decision to cut oil output by 1 mmb/d,  is on track with its primary objective to deplete the world's bloated oil inventories. According to the
latest monthly report from the cartel
, OPEC will
under-supply
global crude markets even as it restores some halted production this month. And with the help of the production cutbacks recently announced by Saudi Arabia, the cartel's biggest exporter, stockpiles will be depleted even further over the next two months.
OPEC Secretary-General Mohammad Barkindo said on Wednesday that the main priority of the group and its allies is to pare "stubbornly high" stocks left behind when the pandemic crushed fuel demand, which prompted a modest selloff in oil.
"What we are focused on is how can we assist the market in accelerating the stock draw-down, in order to bring the market back into balance," Barkindo said. Stocks in industrialized nations remain about 160 million barrels above their five-year average, he added.
While the report released by OPEC's Vienna-based research department on Thursday didn't make any forecast on stockpile trends, the data it contains offers a guide on how balances will develop. OPEC's efforts have revived oil prices, which are trading near a 10-month high above $53 a barrel in New York.
Courtesy of Newsquawk, here are the main highlights from the report:
While 2021 global oil demand growth forecasts remain unchanged, the report is stale given the Jan OPEC+ meeting, recent US stimulus developments and vaccination ramp-ups
DEMAND:
2021 world oil demand growth forecast unchanged from prior report is expected to grow by around 5.90mln BPD Y/Y
DEMAND COMMENTARY:
In the OECD region, oil consumption is estimated to increase by 2.6mln bpd Y/Y but will still lag pre-pandemic levels.
In the non-OECD region, oil demand is estimated to increase by 3.3 mb/d y-o-y, driven by China followed by India and Other Asia, and supported by a rebound in economic activities
COMMENTARY ON FUNDAMENTALS:
Investors turned more positive about an economic rebound and a rapid recovery of oil demand following the rollout of COVID-19 vaccines in several countries
Market optimism strengthened amid the brightening outlook for the global oil market balance after DoC producers decided in early December to voluntarily adjust their production modestly from January, and also agreed to extend the compensation period
SUPPLY:
OPEC-13 crude oil production in December was up by 0.28mln BPD M/M to average 25.36 mln BPD, according to secondary sources
The 2021 supply outlook is now slightly more optimistic for US shale with oil prices increasing and output is expected to recover more in 2H21. It should be noted, however, that upstream capital spending in 2021 is expected to remain well below 2019 levels, mainly due to the significantly lower investment in US shale.
SUPPLY COMMENTARY:
Total OPEC-13 crude oil output increased mainly in Libya, Iraq, and UAE, while production decreased primarily in n Nigeria, Congo and Angola.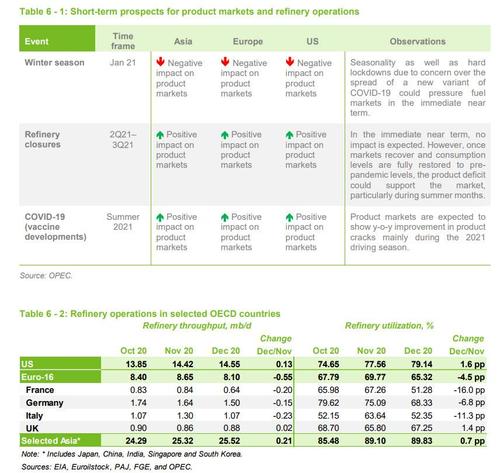 As Newsquawk notes, this contrasts the EIA STEO release whereby the agency cuts forecast for 2021 world oil demand growth forecast while OPEC kept theirs unchanged.  The reports do chime in terms of the outlook for US output which is expected to increase over the coming year.
It's also worth noting that the supply data is stale given the most recent OPEC+ meeting in which Russia and Kazakhstan increase output but maintained exports (citing season demand) and Saudi offered to further cut production by 1mln BPD through February and March.
Meanwhile, the demand side is also likely out of date given US Georgia Senate runoffs early-Jan raising the prospect of more aggressive US stimulus, whilst overnight reports suggested a USD 2tln was being mulled. Further, key oil consumers in Europe have ramped up vaccinations and purchases of vaccines which could also add to the staleness of the report.
Tyler Durden
Thu, 01/14/2021 – 08:24
Go to Source
Author: Tyler Durden