"Aqualung": Jeff Gundlach Webcast Live Feed
The start of a new year, means it is time for the bond king Jeff Gundlach, CEO and CIO of DoubleLine, to address investors and the broader market in his live webcast which is open to anyone, and which this time is titled "aqualung", perhaps in reference to traders' ability to exist only thanks to being constantly flooded by central bank liquidity while being propped up by life-saving stimulus.
As a reminder, courtesy of Bloomberg here are some of the predictions Gundlach made in his "Just Markets" presentation in 2020.
He said his strongest market conviction is that the then-resilient dollar will weaken. He said growing U.S. government and trade deficits, a steepening yield curve and a pull-back in foreign investment may finally hit the currency.
On broader stock and bond market returns he said he didn't expect 2020 to come "anywhere close" to 2019, when virtually all major assets delivered once-a-decade. "It won't be the roaring '20s and it won't be the boring '20s," he said.
He said investors could expect higher volatility.
Bitcoin could climb as high as $15,000 in 2020.
Forward economic indicators are "flashing yellow" for recession, the bond manager said. He continued to put the odds of a U.S. recession by the end of 2020 at 30%-35%, though he warned that the probability would rise if there's lower purchasing managers and consumer confidence data as well as higher unemployment.
One topical observation he made last time, is to watch out if the 10-year yield gets above 1%, because it will then head straight for 2% unless the Fed steps in. This is relevant because the 10Y yield has climbed notably since it crossed that threshold after Georgia's elections last week, and today approached 1.20% before reversing sharply after today's strong 10Y auction. That suggests buyers are ready to step up as the market weakens, which may slow the yield's climb.
Investors will be closely listening to hear what Gundlach says about his view on the Fed plans for its asset purchases, specifically whether Powell will taper its current $120BN in bond purchases per month if additional government stimulus spurs the recovery. Of note, in the past two weeks, several Fed speakers over the past week have flagged a possible "taper" as early as this year.
As usual, the webcast can be followed by clicking on the image below and registering for the free webcast…
… and we will try to point out any of the more notable observations brought up by the DoubleLine billionaire.
At the start of the presentation, Gundlach points out that EM equities have sustained a 22% jump, similar to the 23% for U.S. equities. He lists them both under "favorites of 2021" referring to a recent Deutsche Bank survey of investors.
Gundlach also pointed out that Asian equities are extremely disliked, something he called "unfounded", and would put that asset class high on the "like list." The bond king also lists emerging-market, U.S. equities as 2021 favorites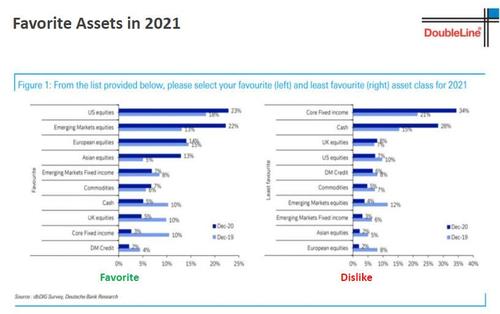 Gundlach next discusses the wild gyrations in global GDP, saying that he doesn't "believe that we've left the recession yet" and referencing the "house of mirrors" we find ourselves as a result of all the various policies.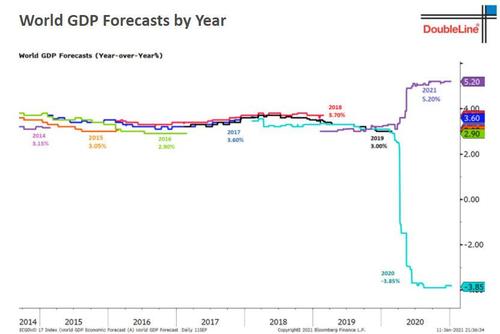 Gundlach said he has cast away many of his usual economic indicator slides because of the way that Covid-19 has skewed several of them. He points out average hourly earnings, referencing to the surge in earnings in December which however is because of job losses in lower-pay roles.
Instead, Gundlach pulls a chart of TSA travelers — the same chart he posted in the Doubleline December webcast – which shows the depressed number of travelers, which he believes is an indication of pent up demand, but he wonders if this will be an "aqualung" or an indication of true recovery. "I think this supports the narrative that there's pent-up demand."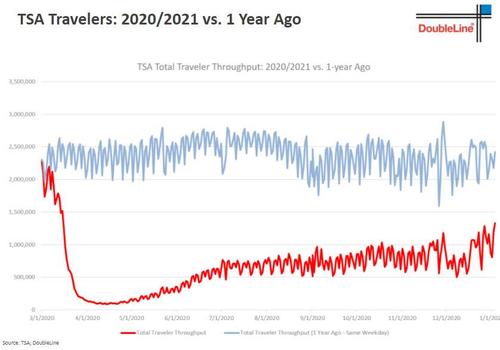 He then moves on to the broad shift to work from home and e-commerce, and says that the "never work from home" crowd is now at 4% from 32% pre-Covid. He says this will have longer effects as business leaders have to "make the tough decision to restructure their business that accommodates more work from home."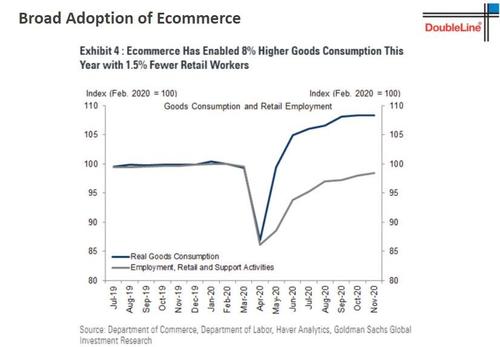 Gundlach says that what started with bartenders, baristas, will gradually shift to a malaise that affects middle management.
Going back to the aqualung analogy, it's hardly a surprise that Gundlach shows a chart of the global money supply which has exploded by $20 trillion in 2020.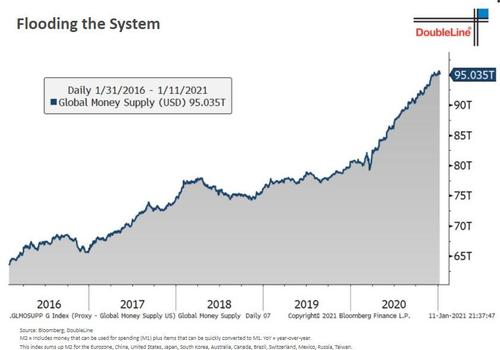 Gundlach mentions one argument on money supply is that it's leading to enormous gains in the S&P 500. Gundlach didn't mention if he agrees with that thinking (although we doubt he disagrees).
The biggest culprit here is well-known: the Fed continues to inject $120BN in liquidity every month.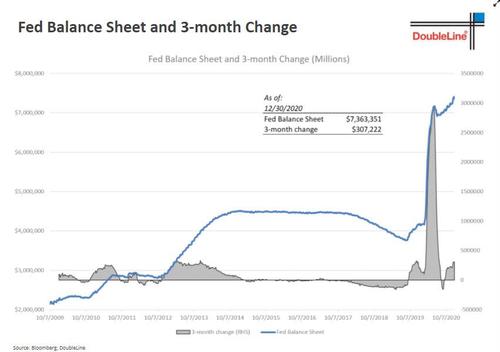 Gundlach then touches on one of the key trades in the market right now, which is the continued piling of USD shorts. Gundlach here disagrees and lays out two charts which provide a technical support for the dollar, at least in the short-term, the first being the 2017 support level…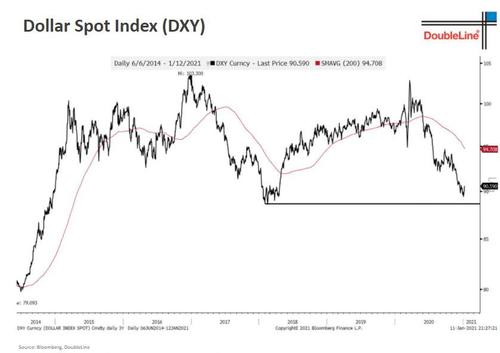 … the next being the downward wedge: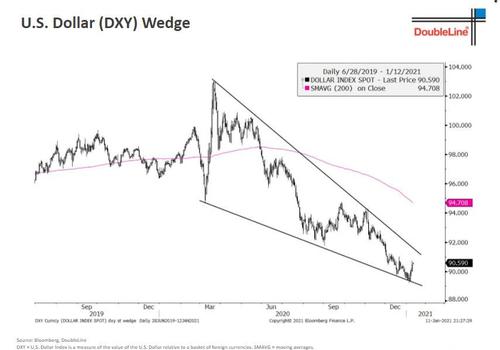 There is of course the fundamental limit that is the 2s10s curve which may have gone about as far as it can without sparking the Fed to invoke YCC. That said, Gundlach says "once again, the market was right" when the yield curve bottomed out in 2020 and the dollar has moved accordingly.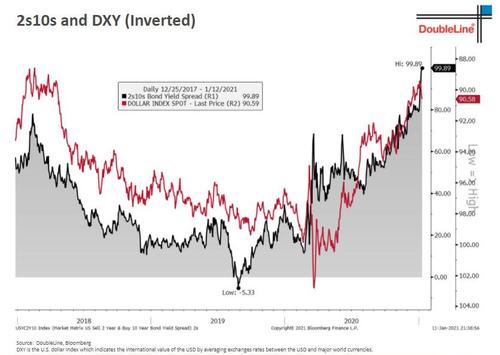 He said we could go back in a correlated market where stocks and bonds rise and fall together in the case where inflation returns to the market narrative. Looking ahead, Gundlach says we could go back in a correlated market where stocks and bonds rise and fall together in the case where inflation returns to the market narrative.
Gundlach next looks at equities, and specifically the Nasdaq vs SPX, a familiar chart, which as shown below is at the highest level on record, surpassing the dot com bubble highs. Looking at the chart below he says "the 20 year trend is likely over" if the "super six" Generals drop below their historical tech bubble high, and if there is a trend change and tech rolls over and falls below its historical high.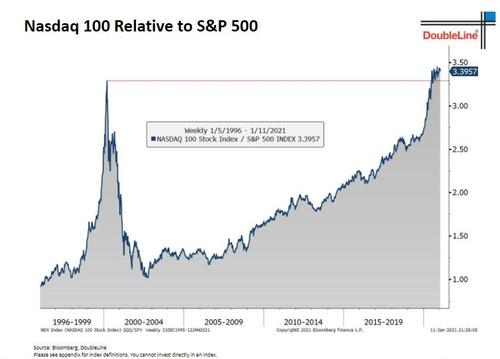 Of course, while the chart above would reverse quickly if inflation does accelerate, Gundlach admits that the Fed's ultra low policy is keeping enabling an army of corporate zombies which is deflationary.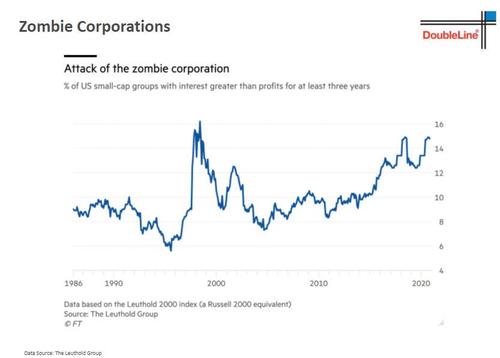 Looking outside the US, Gundlach observes that the outperformance of the US vs the rest of the world is starting to moderate…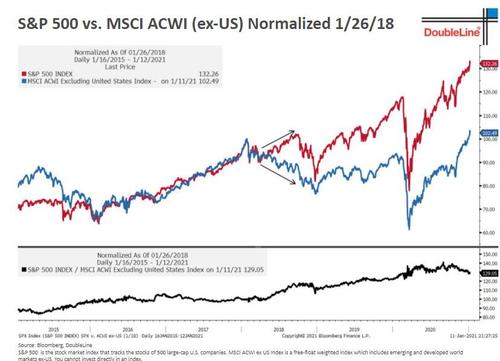 … and will likely continue to compress with global equity valuations roughly half of the US.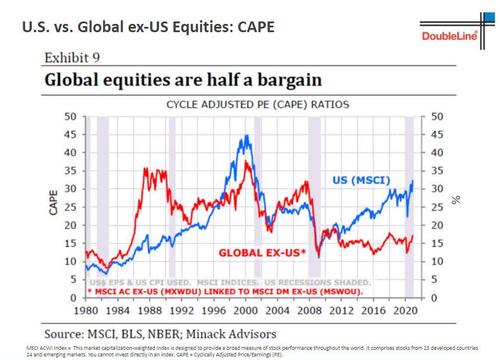 Much more in Gundlach's full presentation below:
Tyler Durden
Tue, 01/12/2021 – 16:28
Go to Source
Author: Tyler Durden